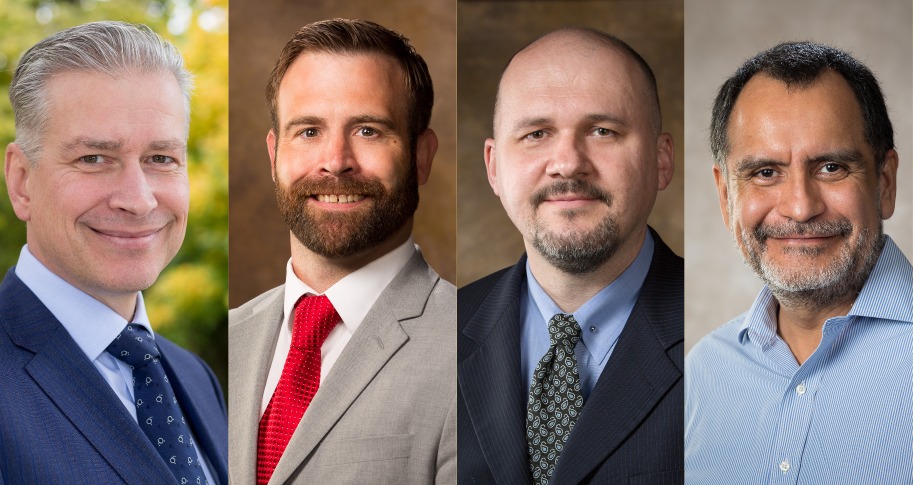 The 2021-2022 Walton College Faculty Awards have been announced! The recipients were selected based on nominations, their current curriculum vitae and a personal statement that includes teaching evaluations, student comments, sample assignments, summaries of recent research publications, citation counts, grant awards and program innovations.
The MBA program is proud to have four of our teachers recognized this year. Let's hear from these extraordinary faculty members and learn what drives them to be the best of the best!
Outstanding "All Around" Faculty Award
Remko van Hoek – Supply Chain Management
Previous work experience has helped develop Remko into an outstanding all-around faculty member. He explains "I bring my industry experience and international network into the classroom. I also share my passion for innovating supply chains and the passion for developing leaders of the future, for which there is a huge and growing need in the industry. These are all reasons why I came back to teach: a service to our students and my profession." When asked how his work in the classroom develops his students, Remko says, "Students credit me for bringing discussions to concrete to-dos in business and setting them up for impactful and meaningful business contributions."
Faculty Excellence in Service Award
Jason Ridge – Strategy, Entrepreneurship, & Venture Innovation
Passion is a major driver to successful teaching. Jason Ridge shares how he imparts his passion onto his students: "I find the research process rewarding and find it a helpful way to inform my classes. I like to share the knowledge gained through research, and I use the experiences of creating something new to show how persistence and resilience are keys to success. Whether the 'something new' is research, a business, a product or a process, idea generation is an iterative process in which what you begin with isn't necessarily where you will end up. However, through persistence, hard work, and being willing to accept critical feedback, the outcome will be much better than when initially envisioned."
Jason is also enthusiastic about keeping his students up to date on current news and events. "I like focusing on case studies and recent readings from the business news. I can provide knowledge generated through high quality research while also tying that research to current topics, making the ideas both more relevant and accessible to students."
MBA Teacher of the Year Award
Tomas Jandik – Finance
Tomas Jandik is honored to be MBA Teacher of the Year. He shares what he loves about Walton College. "I love the quality of our MBA students in both full-time and executive programs. I also enjoy being part of a top-quality program in a very high-growth area. NWA is the home of national and global giants Walmart, Tyson Foods, and J.B. Hunt Transport Services, Inc. and more than 300 of Fortune 500 Companies have offices here. Our students come from or join firms from all business segments – high-tech, startups, public service, consulting. With such opportunities provided by our highly-demanded program, excellent location and powerful alumni network – sky is the limit!"
Outstanding Contributions to Service-Learning Teaching Award
Rogelio Contreras – Strategy, Entrepreneurship, & Venture Innovation
Rogelio talks about the methods he uses in his classroom that contribute to his success. "I am a strong advocate of the Socratic method, and an advocate of the opportunity to grant students control over their own learning experience. When I think about social business and social innovation, it is impossible for me to separate the idea from two central concepts: diversity and service-learning. Diversity of thought, of perspective, is key to foster innovation; and service-learning is essential to test and iterate this innovation in the field.
Rogelio also explains how he mentors his entrepreneurial students. "I am passionate about the idea of businesses as a tool to scale positive social impact and improving business sustainability practices along the value chain. There is a lot of skepticism or romanticism around the idea of doing good for the world or launching a business with a cause. I often find myself offering students a reality check on what needs to happen in order to truly develop a social business or an innovation with a purpose. Through my classes, students become aware of what is possible. Before thinking of doing any good in the world, we really need to start taking concrete, brave actions to do less harm.
Congratulations to this year's award winners. The Walton MBA program is honored to have such a talented group of employees that reflect the colleges' core EPIC values: Excellence, Professionalism, Innovation, Collegiality.