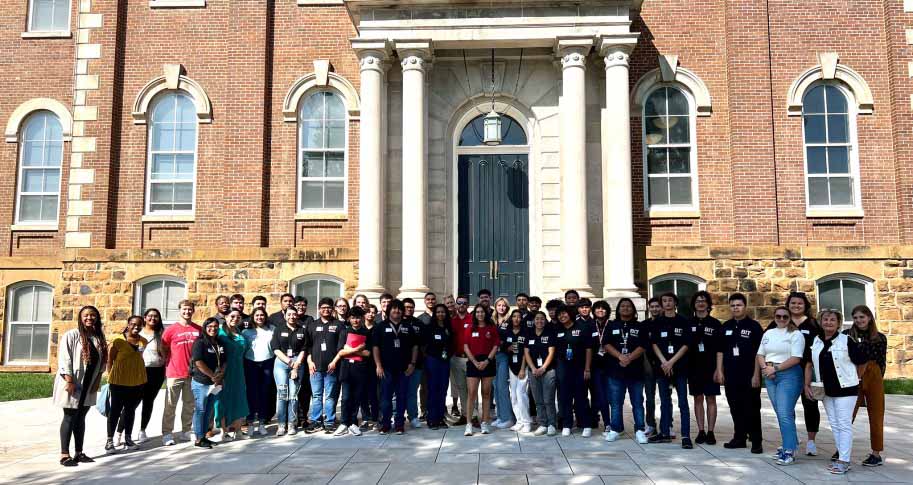 Ali Goforth, second year, full-time Walton MBA student and rotational intern at Mars Inc., graduated from the University of California San Diego in 2019. She received college and departmental honors with highest distinction for her studies in biological anthropology and global health. After relocating to Northwest Arkansas, Goforth served as the assistant director of marketing and communications for the MBA Programs Office. "I saw first-hand the incredible value and opportunities the program offered," she said. "I was excited to learn something new and relevant to the community, but the experience has been so much more than that."
This year, Goforth directed the Walton MBA Mentor Program, which is positioned to have a huge impact on the lives of this year's 37 Springdale High School students and beyond.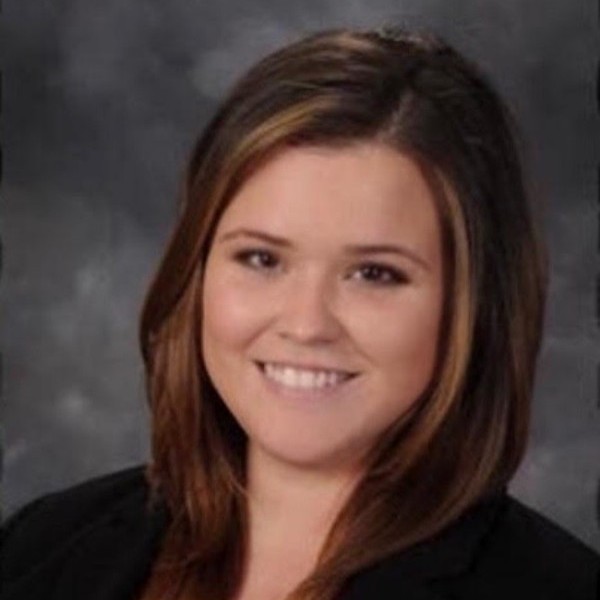 Ali Goforth (MBA '23)
MBA Insider: What is the Walton MBA Mentor Program?
This year the Walton MBA Mentor Program is working with 37 Springdale High School Business & IT Academy seniors. We have 20 MBA mentors, including seven team leads: Abby Roberts, Lizzy Lankford, Madelyn Scott, Nathen Couch, Veronica Garcia, Laurel Schley and Justice Jackson. We welcomed the students to campus in September and have monthly mentor sessions at Springdale High School planned through the 2022-2023 academic year. The sessions include general mentorship, professional development, guest speakers and a community-based learning (CBL) project.
More than half of these students said they didn't have someone they could count on to provide advice or guidance on plans leading up to or after graduation. More than half of the students would be the first in their families to go to college. We hope to help remove barriers to a college education by providing mentorship, guidance and resources. For students who want to go straight into the workforce, we're giving them the technical skills they need to be successful. We're working on communication skills, building strong resumes, participating in mock interviews, presenting with confidence and so much more.
I hope this year is only the beginning. My goal is to create a sustainable diverse talent pipeline with a model that can be easily adopted in other cities. I think the benefit of programs like these is two-fold, it not only benefits the students and mentors, but also the community and local businesses.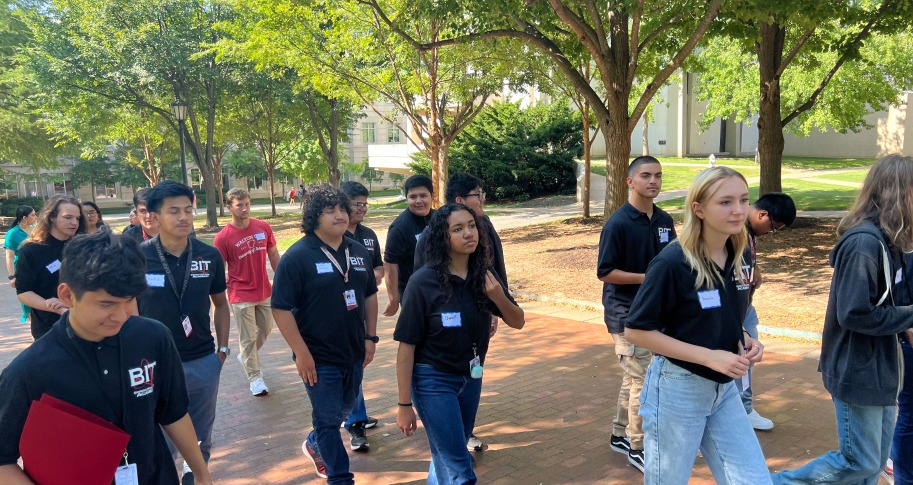 SHS students toured the University of Arkansas campus during the Walton MBA Mentor Program Kick-off event on September 9.
What inspired you to start this program?
Manny Mejia, Walton MBA alumnus, first started a mentor program with Springdale High School in 2019. When COVID-19 hit, the program moved to a virtual format and discontinued when Manny graduated.
I knew I wanted to bring the program back when I joined the Walton MBA program. During my first year, I volunteered as a judge in Scott Fitzgerald's "Bikes Mean Business" class at the Thaden School (in Bentonville). Fitzgerald used social innovation concepts from a curriculum designed by Rogelio Contreras, a teaching assistant professor in the Department of Strategy, Entrepreneurship and Venture Innovation. I was so impressed with how much the students grew over the course of their projects. It wasn't just technical skills. Students learned to define the problem, find creative solutions and learned how to tell a compelling story with confidence. I wanted to bring that experience to the Springdale High School students. When I spoke to professor Contreras, he gave me a ton of resources and encouraged me to make the curriculum my own.
Manny graduated from Springdale High School and had connections there. When I wanted to re-start the program, I wasn't sure if they would be interested. But when I reached out, they were just as excited as I was to bring the program back. I feel super lucky to work with Josefina Perez and Cathy Johnson, the teachers who lead the Business & IT Academy. They do so much for their students.
The community-based learning project this year will focus on healthcare innovation and health equity. These are topics I'm personally passionate about, but topics that are also hyper-relevant to the Springdale community. It's been exciting to find a way to bridge my undergraduate studies with the work I'm doing in the MBA program.
It has been a ton of work, and I couldn't do it without support from my peers. They have stepped up in really big ways from leading campus tours, helping plan events, searching for fundraising and so much more. They're donating their time and energy when we already have so much going on. I'm excited to spend my last year in the Walton MBA program working with my peers and Julie Storing, associate MBA director, to bring this program back to life.
What are the plans for the program's future?
The program will culminate in a pitch showcase at the University of Arkansas in May. We will invite students, families, judges, industry experts and community leaders to join us. Next year, the program will span two years. First-year MBA students will work with SHS juniors and roll up with them into their senior year. We are also exploring options for implementing this program in Little Rock. I hope to create a curriculum and program model that is not only sustainable in our community but can replicated in other cities and schools.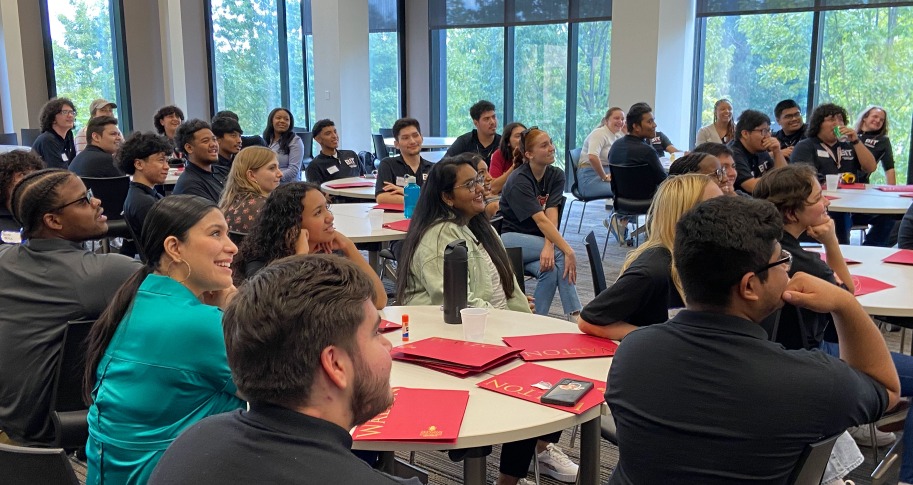 Walton MBA mentors and Springdale High School seniors join forces at the University of Arkansas for the launch of the Walton MBA Mentor Program.
How has the Walton MBA program helped expand your impact?
The Walton MBA has a really interesting curriculum, from corporate finance and supply chain management to innovation and creativity and leadership and ethics. I'm using everything I learned in my undergraduate studies in the MBA program and our professional development classes to help me build this program. The Springdale High School students are getting a high-level overview of a lot of the topics we learned in class.
The professional development and networking sessions have opened a ton of doors and opportunities. I wouldn't be in the position I am to bring this program back in a big way without the knowledge and connections I've gained over the last year and a half. The Walton MBA has been a transformational experience and I can't wait to see what happens in May.
The Walton MBA Mentor Program is sponsored by the Walton MBA Diversity Committee. Want to get involved? Email agoforth@uark.edu.