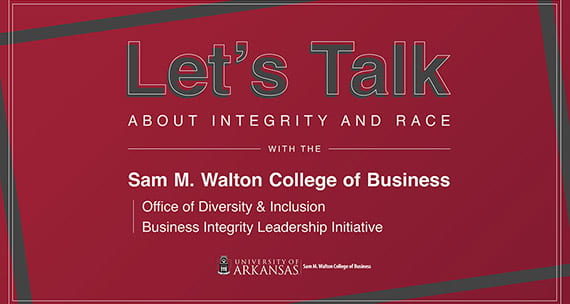 Mary Gentile, author of Giving Voice to Values, will speak via Zoom at 6 p.m. Tuesday, Sept. 29, as part of the Let's Talk About Integrity and Race program promoting dialog about those issues among students, faculty and staff at the University of Arkansas.
Pre-registration is required for the Zoom talk. There is a registration form for students, faculty, staff and others and additional information on the Let's Talk About Integrity and Race webpage.
Registration is open to the entire campus community and space is limited so sign up soon!
Gentile is creator and director of Giving Voice to Values, professor of practice at the University of Virginia Darden School of Business, senior adviser at the Aspen Institute Business & Society Program and consultant on management education and leadership development.
Giving Voice to Values is a curriculum for values-driven leadership featured in publications such as, Financial Times, Harvard Business Review, Stanford Social Innovation Review, McKinsey Quarterly and piloted in over 995 business schools and organizations globally.
Her talk is part of the Let's Talk program organized and led by the college's Office of Diversity and Inclusion at the Sam M. Walton College of Business and its director, Barbara Lofton, as well as the Business Integrity and Leadership Initiative, headed by Cindy Moehring, the initiative's founder and executive director.
Let's Talk includes a classroom focus, a book, a workshop series, a speaker series and a verifiable badge that Walton College students can highlight on their LinkedIn profiles and resumes. The "Let's Talk" Fall 2020 program focuses on the importance of speaking up about today's pivotal issue — racism.
The college has extended the program into the Northwest Arkansas community by partnering with the Northwest Arkansas Council on a series of workshops for community leaders and on talks with noted authors.
Gentile's talk via Zoom will last from 6-7:30 p.m., including time for attendees to have the opportunity to engage in a Q&A with Gentile.