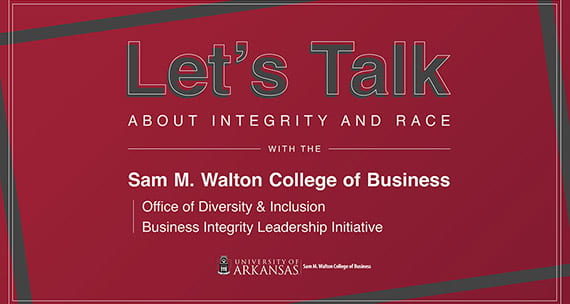 "Let's Talk" is a new program beginning this fall at the Walton College that will promote integrity and diversity among students, faculty and staff at the University of Arkansas and extend discussions about racism into the Northwest Arkansas community.
"The program we're calling 'Let's Talk' is a redoubling of our decades-long effort to promote integrity, diversity and inclusion at the Walton College," said Matt Waller, Walton dean and the Sam M. Walton Leadership Chair in Business. "As our long-standing college values state, Walton College strives to be epic in all we do, especially our efforts to value our differences, respect everyone and welcome all."
"Let's Talk" is being organized and led by the college's Office of Diversity and Inclusion and its director, Barbara Lofton, as well as the Business Integrity and Leadership Initiative, headed by Cindy Moehring, the initiative's founder and executive director.
"I am looking forward to listening to the thoughts of others as to why race is so difficult to talk about," Lofton said. "We hope that throughout our conversations, people will begin to feel empowered and the participants will be able to speak up about race with understanding and conviction to share their knowledge."
"Let's Talk" launches this fall on a number of fronts, including a classroom focus, a book, a workshop series, a speaker series and a verifiable badge that Walton College students can highlight on their LinkedIn profiles and resumes. The "Let's Talk" Fall 2020 program focuses on the importance of speaking up about today's pivotal issue — racism.
"Speaking up is the foundational crux of personal integrity. Learning how to speak up effectively is a skill," Moehring said. "The 'Let's Talk' program provides tools that can be used to build the skill of speaking up on racism, as well as voicing your values on other issues of integrity."
The program also advances the university's commitment to diversity, equity and inclusion. Last month, U of A Chancellor Joe Steinmetz joined business and community leaders across Northwest Arkansas in signing a leadership pledge to address systemic racism and promote a more equitable and inclusive region. The pledge, adopted by the Northwest Arkansas Council and EngageNWA, states that the signing companies are committed to guiding principles around education and training, community and workplace, public policy and continuous improvement.
Through cooperation with Yvette Murphy-Erby, the university's vice chancellor for diversity and inclusion, and her U of A Office for Diversity and Inclusion, many of the activities planned for fall by the Walton College also will be made available to all those on the Fayetteville campus. Everyone on campus will be encouraged to read the book, attend the workshops, the speaker series and all other events, Lofton and Moehring said.
Walton College is also co-sponsoring with the Northwest Arkansas Council a series of eight workshops for up to 100 community leaders. These workshops will engage Northwest Arkansas leaders in dialog about integrity and race throughout the fall.
The community has gotten behind the program, with Brandi Joplin, senior vice president and chief financial officer for Sam's Club, contributing a video to encourage students and others to participate. Joplin is a graduate of the Walton College with a degree in accounting and a member of the Walton College's Dean's Executive Advisory Board.
"To date, more than 120 organizations have signed the leadership pledge to address systemic racism in Northwest Arkansas, said Nelson Peacock, president and CEO of the Northwest Arkansas Council. "We are committed to making Northwest Arkansas an inclusive region and believe a key component is offering educational training opportunities in diversity, equity and inclusion to as many individuals as possible. It's important for people be able to have difficult conversations as we continue to learn more about how we got here and how we can work together to eliminate systemic racism."
The dialog will center around the college's "Book of the Semester." For the fall term, everyone will be encouraged to read So You Want to Talk About Race by Ijeoma Oluo. The book is a New York Times best-seller, and it "offers a hard-hitting but user-friendly examination of race in America," according to the publisher.
The Northwest Arkansas Council is joining that effort by co-sponsoring a talk by Oluo in November. That talk will be open to university students, faculty and staff and a number of members of the Northwest Arkansas community via Zoom. Mary Gentile, author of Giving Voice to Values will also speak via Zoom in September as part of the overall fall program.
At the Walton College, students are hearing discussions of the topics in their Freshman Business Connections, Business Law and other courses in the core college curriculum and will attend workshops, guest speaker presentations and a movie night aimed at providing ways to speak up about diversity, racism and integrity issues.
Students and community members also have the opportunity to earn verifiable "badges" for their LinkedIn profiles and resumes on diversity and integrity by attending the events, workshops and talks.
The workshops planned as part of the "Let's Talk" program for the fall include two options for students, faculty and staff:


A single wrap-up workshop in November to discuss how to give voice to your values, the book, So You Want to Talk about Race, and the two speakers. The single wrap-up workshop for students, faculty and staff is planned for a Tuesday evening.


A series of weekly workshops in September and October where Gentile's Giving Voice to Values approach will be discussed through a video series and a few chapters of So You Want to Talk about Race will be discussed each week. The weekly student workshops are planned for Tuesday evenings and the faculty and staff workshops are planned for Friday at the lunch hour.


For the movie night, students, faculty and staff will watch a streaming presentation of Just Mercy, a 2019 legal drama starring Michael B. Jordan, Jamie Foxx and Brie Larson, among others. After watching the film, viewers will have an online discussion of issues raised by the movie.
Walton College faculty were asked to include a statement on respect for diversity in the syllabus for each fall class, encourage students to read the book of the semester, and participate in the Let's Talk plan.