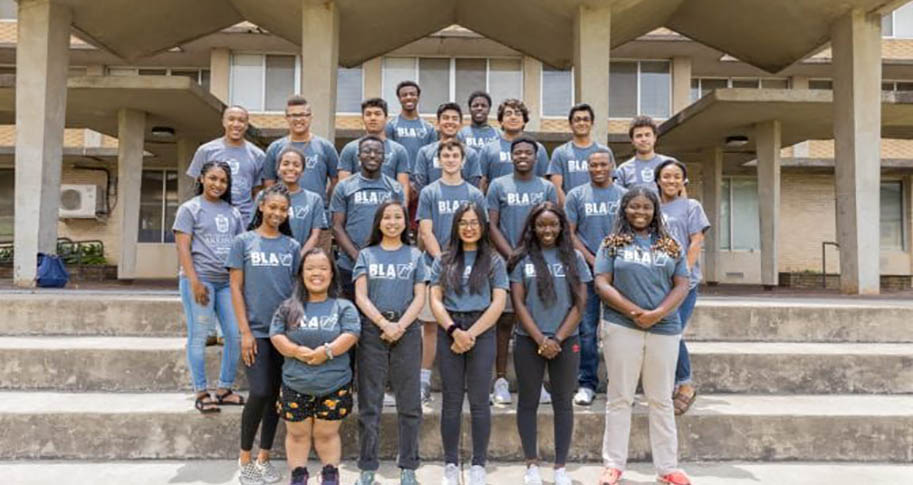 The Office of Diversity and Inclusion at the Sam M. Walton College of Business hosted four residential summer camps in June to introduce high school students to the University of Arkansas and Walton College.
The four camps introduce high ability minority students to career options, campus resources and campus life.
"Introducing college life to high school kids who may not otherwise have this opportunity is life changing," said Barbara Lofton, director of the Office of Diversity and Inclusion for Walton College. "Through our summer camp programs, these students meet faculty and staff, stay in dorm rooms and eat meals on campus, participate in research and learn about academic and career opportunities available to them.
"It changes their perception of college and makes them feel at home here."
The Business Leadership Academy, held June 9-13, introduced newly admitted freshmen to campus life. The students enhanced leadership skills through team projects and met Walton staff and faculty. The program also told students about career opportunities in retail and marketing.
The Fleischer Scholars Program, held June 16-21, hosted two camps for low income high school juniors and seniors whose parents did not attend college. Fleischer Scholars Program I was for students new to the program. Fleischer Scholars Program II welcomed back students who attended the camp previously.
The weeklong camps taught students how to research, develop and present a business plan and helped them transition from high school to college. The Fleischer Scholars Program provides a four-year partial college scholarship to participants.
The Accounting Career Awareness Program was held June 23-28 for underrepresented high school juniors and seniors interested in pursuing careers in accounting. Students attended undergraduate classes and networked with accouting professionals. Workshops focused on basic skills needed for accounting careers, business etiquette and requirements for certified public accountants.
The Office of Diversity and Inclusion was established in 1994 to support, advocate and assist Walton College in developing plans for diversity and supporting students throughout the college. It is the oldest office of diversity at an Southeastern Conference business school and recently celebrated its 25th anniversary. For more information regarding the Office of Diversity and Inclusion, visit walton.uark.edu/diversity.
About the University of Arkansas:The University of Arkansas provides an internationally competitive education for undergraduate and graduate students in more than 200 academic programs. The university contributes new knowledge, economic development, basic and applied research, and creative activity while also providing service to academic and professional disciplines. The Carnegie Foundation classifies the University of Arkansas among fewer than 2.7 percent of universities in America that have the highest level of research activity. U.S. News & World Report ranks the University of Arkansas among its top American public research universities. Founded in 1871, the University of Arkansas comprises 10 colleges and schools and maintains a low student-to-faculty ratio that promotes personal attention and close mentoring.