Online Bachelor's of Business Degree
Students can begin the B.S.B.A. as freshmen and complete all four years of coursework online. The program also gives students who have completed an associate's degree in business, or those who are near completion of their business degree, the option to complete the B.S.B.A. online through Walton College.
"Giving students the option to earn a general business degree online allows Walton College faculty to share their teaching and scholarship with students who do not have the opportunity to attend classes on campus.
An online course of study makes it possible for working professionals, entrepreneurs and students who have family, work and other responsibilities that prevent them from studying on campus to complete a degree from Walton College – a nationally ranked, internationally accredited college of business."
- Walton College Dean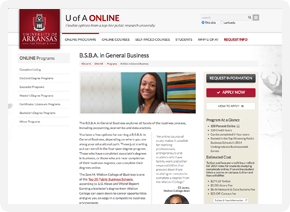 Learn more about the online Bachelor of Science in Business Administration at online.uark.edu.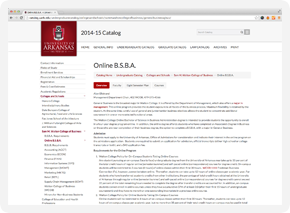 Additional information about the online B.S.B.A can be found on the University of Arkansas Academic Catalog