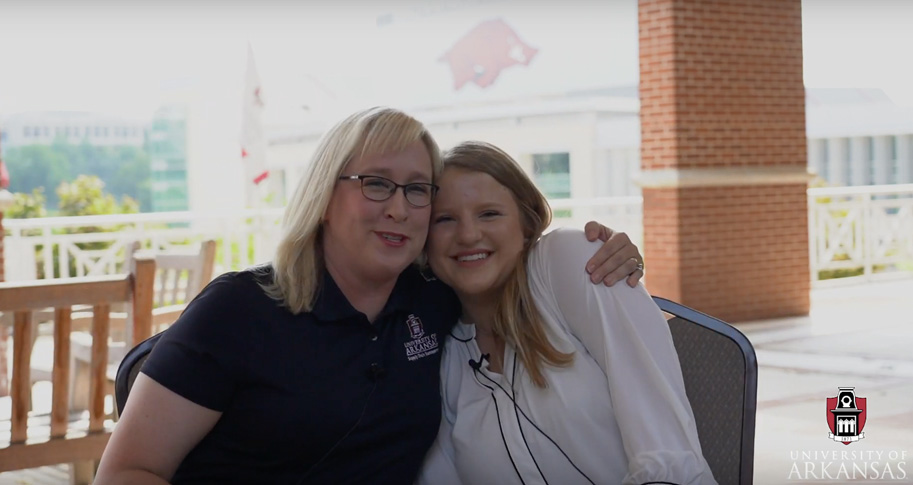 Episode Transcript
00:00 Emily: But it's quite rare to have a lot of women in this industry. So I was actually very surprised over this the summer, I worked with a good number of women. At least half of the intern group were women as well. And that just really taught me how to network with them, and use them as a resource, and build each other up.
[music]
00:35 Stephanie Thomas: Today, we're here at the beautiful alumni house across from Razorback Stadium at the University of Arkansas. And I have with me, Emily Russell, a supply chain student graduating in 2020. She recently completed an internship with R+L Global Logistics as a capacity procurement intern. So, Emily, I'm excited to be here with you today to talk about your internship and your experience here at the University of Arkansas. So, Emily, would you tell us a little bit about some of the roles and responsibilities that you did in your internship this summer?
01:04 Emily: Yes, absolutely. So, my responsibilities this summer as an intern was I was on the capacity procurement team. And so that team, their whole job is to find capacity for whatever freight we book in that day. So, I was actually doing a special project for the company about tracking and tracing. And so I was trying to do research in order to prove that we needed to implement tracking and tracing executives. So what that is, is people who their sole job is to track freight through the country, where it goes, where it stops, when it's delivered. Just start to finish.
01:41 Stephanie Thomas: Would you mind telling me about someone who positively influenced you during your internship?
01:45 Emily: Yes. So I was really privileged to work with a great group of people during my internship. Our desks are set up in island format. So it's very collaborative, you're able to talk across the island to your co-workers, and get advice whenever you need. I was very fortunate to sit right across from the Director of Capacity Procurement for the entire company. His name's Mark Funk. He was a great resource for me, he really guided me along my path, and helped me with my professional career, it really helped me with my resume, building my relations at the company. I also worked quite extensively with a woman named Linda Lyles. She trained me through my entire internship, taught me everything I knew, and I was very, very fortunate to have worked with her.
02:27 Stephanie Thomas: That's awesome, 'cause I know mentors and having people to look out for you is a big part of helping grow as a student. Emily, can you tell me a little bit about how you've been involved on campus?
02:37 Emily: Yeah, so I'm actually the VP of Membership for an organization called WISE, Women Impacting Supply-chain Excellence. This organization has taught me a lot about career building in the supply chain industry, as a woman. My responsibilities are that I kind of take care of all things that have to do with our members. So I send them information about our upcoming events, I help plan the upcoming events. I get in touch with those who want to be added to the organization, and I just kind of keep track of our members and make sure that they're well-informed with our events that are going on through this semester.
03:11 Stephanie Thomas: So, Emily, I know that you are a supply chain major, but you're also a double major. So can you tell us a little bit more about your second major?
03:18 Emily: Yeah, so my second major is Spanish. I've been taking Spanish ever since I was five-years-old. So I'm very in tune with it. I really love the language. I actually used it quite a bit over the summer with my internship. A lot of the carrier relations that we have, we have Mexico services, but we also just work with a lot of carriers who predominantly speak Spanish. And a lot of the drivers also speak Spanish. So if you're ever talking to a driver, or a carrier, it makes your life a lot easier if you're able to speak their language.
03:46 Stephanie Thomas: So now that you're back on campus from your summer internship, can you talk a little bit about how maybe your schedule as a student differs from your schedule as an intern?
03:58 Emily: Yes, well, as an intern, you gotta be at work very early every morning. So I would wake up at 6:00 AM every single morning and go to work. When I'm at school, I do not schedule morning classes. So [laughter] it's a totally different routine.
04:13 Stephanie Thomas: So, Emily, can you tell me about some of the scholarships that you've received to come to school?
04:17 Emily: Yeah, so I actually have two scholarships. I have one from my church, First Presbyterian Church of Tulsa. They gave me a scholarship to promote excellence and their student youth. So very privileged to have that one. And I also have a scholarship from Cherokee Nation. They give me a scholarship every semester to continue going to school and I'm very fortunate to have their support in that.
04:38 Stephanie Thomas: How did you receive those scholarships?
04:40 Emily: So, I just applied for both of them. I received the Cherokee Nation scholarship, because my dad, and his side of the family, and also I am Cherokee. So I just applied for it and I ended up getting it. So...
04:51 Stephanie Thomas: Emily, I know last year you were looking for a summer internship, and I know you took advantage of a lot of the opportunities to meet companies. Can you talk a little bit about that?
05:01 Emily: Yes. So I attended the supply chain breakfast and also the career fair and those were two really great ways to network with recruiters and kind of find your fit with companies. I ended up talking to R+L at the career fair. And I was interested, 'cause they had a lot of great locations where their companies were based. And they were a supply chain company, so I was very interested in them. I just ended up going through the interview process and I got an offer for them. So I headed down to Sunny Florida, and I love the company. It's a great culture, it's full of amazing people. They work hard at what they do. So...
05:36 Stephanie Thomas: Well, since you brought up Sunny Florida, let's go back to that for a second, and I know you're a Tulsa girl, and you spent your years here for undergrad in Arkansas. Let's talk a little bit about going to Florida for the summer.
05:49 Emily: Yeah, so it was very daunting at first. It's all the way across the coast, it's a long way from here. But I ended up just taking a chance on it, and I loved it. I loved being able to explore the environment down there. There's a ton of beaches down there. I figured out I'm a very big beach person. So I just really enjoyed getting to explore new things and working for this company really helped that further that along.
06:00 Stephanie Thomas: So let's talk about when you first started as a business student and you had all these majors to choose from. What made you choose supply chain?
06:00 Emily: Yeah, so I originally started as a business student. I've been a business student since I was a freshman. But I wasn't entirely sure where I wanted to go in the business field. It wasn't until I took my Intro to Supply Chain class with Stephanie Thomas that I decided that I wanted to do supply chain. And...
06:00 Stephanie Thomas: Thank you.
06:00 Emily: But yes, I do love supply chain. Her class was the reason why I wanted to do it. I didn't know what I wanted to do and that really just cemented the fact that I wanted to go into supply chain.
06:00 Stephanie Thomas: Well, I think it's awesome that you chose supply chain, 'cause I'm passionate about it and I'm glad that my class was a small role in opening up the world of supply chain. Emily, now that you have several years of experience as a student under your belt, is there anything, if you think back to when you first started, that you, advice you have for maybe an incoming freshman or a new supply chain student?
07:15 Emily: Yeah. I think the best advice I ever took for myself was being flexible to what might come. I think a lot of us come in having this idea of what we want. And when it doesn't go that way, we get very disappointed, and we give up a little too easily. And being able to roll with the punches, being flexible, being able to change at the minutes notice is very important, just in general, but also in supply chain.
07:40 Stephanie Thomas: Perfect. I think that's great advice and I'm really glad we got to sit down and chat today. And it's always fun to spend time with the former students.