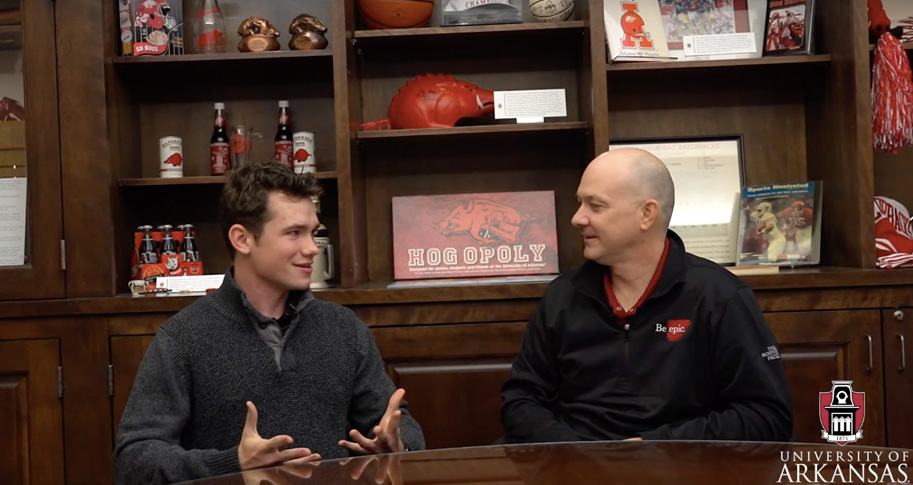 Episode Transcript
00:00 Nick Foster: Yeah, I'm a fully converted Arkansan at this point, I feel like.
00:03 Brian Fugate: Do you wear these things?
00:05 Nick Foster: Not usually. Sometimes.
00:07 Brian Fugate: You wear them sometimes?
00:09 Nick Foster: Few times. Maybe once or twice a month, but not too often.
[music]
00:27 Brian Fugate: We're here with Nick foster, a Supply Chain Management and Information Systems double major in the Walton College. And we're sitting here in the alumni house with lots of memorabilia about the University of Arkansas. And Nick is graduating next May, and so this is fitting. He's been here four years, done a lot of amazing things. He worked as a supply chain team lead in the McMillon Innovation Studio. He's had an internship at Phillips 66 in procurement, and he's currently co-oping as a supply chain analyst co-op at Nestle. So Nick, I want to spend a little time talking about, really, all of those today. Maybe start with your summer internship experience at Phillips 66. And so could you tell us a little bit about what you did there this summer and how that went?
01:26 Nick Foster: Absolutely. So like you said, I was a procurement intern at Phillips 66 this summer. I actually worked in the refinery just south of Houston, so I was actually at-site which was a really great experience. And I was also able to work a little bit in corporate, so kinda get both of that field and then corporate experience as well. I got to work on a lot of really interesting projects that had actually some financial impact on the company. And I also got to learn about up-churn supply chain: Working with suppliers, leveraging value, things like that. Things we actually learned in the classroom I got to go out and apply in the real world.
01:58 Brian Fugate: Yeah. So I know you told us before about how you had learned some certain concepts, frameworks, and ways of thinking, and tools in your supply management course or sourcing procurement, and you applied it. Can you tell us a little bit about that?
02:12 Nick Foster: Yeah, absolutely. So one of my main projects was actually looking at a contract ownership program, which is just really understanding how to leverage spend across different categories. And which is something that when we talk about supply management that's always a key concept, is using your volume to lower cost. So that was a really unique experience for me to go in and get to look at the early stages of what that looks like. 'Cause I was tasked with moving it to a completely new department where it had never been used before. So it is a really neat experience to understand the why behind what I was doing, and it really gave me some great context as I completed that project.
02:48 Brian Fugate: Was that fun? Were there any kinda unique experiences maybe that you had while you were there?
02:52 Nick Foster: Absolutely. So just going out into the field itself was a unique experience. They asked me if I wanted to be placed in Sweeney, Texas and my first question was, "Where is Sweeney, Texas?"
[laughter]
03:03 Nick Foster: I had no idea where it was at, but I went ahead and said yes to the opportunity. I was very grateful I did because I actually got to go out and experience things in the field. So I got to put on the FRs, the fire-retardant clothing, the hard hat, the gloves, and actually go out and tour the refinery, see what all the different units do, just to better my understanding of how the business runs. And then also get to do some really unique things, like I climbed up the coker, which is this huge structure we have in the refinery, 'cause I think we climbed up like 300 feet of ladders, just straight up.
03:32 Brian Fugate: Wow. Maybe moving on to your Nestle co-op. Tell us a little bit about what you're doing there.
03:36 Nick Foster: Right. So it's completely different. Firstly, it's downstream. So when I worked at Phillips it was entirely upstream, working with suppliers. But here we work almost completely internally, and then also with Walmart in a downstream function. So I went from the very top of the supply chain to the very end of the supply chain. I work in customer-facing supply chain. So dealing a lot with the retail customers. I get to work on a lot different accounts. Like most of them will be Walmart, but then also Kroger and Target. I get to see how the different retailers operate from that supplier perspective which is really, really unique. I got to do a lot of reporting projects looking at how we're supporting the sales team so they understand what exactly they have in inventory to make a forecast and call revenue numbers. So really neat experience getting to go downstream, and then also look at different industries. I mean, CPG is very, very different than energy. Obviously there's just a lot of differences between the two. So it's been really unique, and I think it speaks a lot about the U of A and the supplier community that I'm allowed to both go to school and then also have this great experience with this awesome company.
04:39 Brian Fugate: Yeah, that's wonderful. So I imagine, given some of the experiences you've told me about, you really enjoyed working with that group, what makes it fun to go there while you're in school every day?
04:51 Nick Foster: Yeah. So at Nestle... I mean, Nestle is one of the best CPG companies in the world, one of the best supply chain companies in the world. So I get to work with incredibly smart people, get to work with the largest food CPG on the largest retail account. Which is really unique to see how that relationship works and see how we partner to bring value to Walmart both from a supply chain perspective, and also from that sales perspective as well. I've gotten to reach out just beyond the supply chain to kinda understand the CPG environment as a whole.
05:23 Brian Fugate: Given all the wonderful experiences that you've had, and jobs, how did you go about getting your internship in this co-op?
05:32 Nick Foster: Right, that's a great question. So my internship, summer internship with Phillips, came from the career fair actually. It came from the supply chain networking breakfast.
05:40 Brian Fugate: Fantastic.
05:41 Nick Foster: So coming from Oklahoma I didn't think I wanted to be an oil again, because that's kind of what I'm used to back home so I kinda thought I wanted to break out of it and not go back that direction. But meeting the people at Phillips at the career breakfast, I was just really impressed at the quality of the people, but then also the quality of the company. I mean, Phillips is a wonderful organization that treats their employees just incredibly well. And I was super impressed by that, and then also the quality of people I would get to work with. Just very, very sharp intelligent people who really knew what they were doing. So that really excited me. And then, like I said, I got these connections through the events put on by the supply chain department, but then also the career services as Well.
06:20 Nick Foster: You are going to Ernst & Young as a consultant, a staff consultant. And so congratulations, first of all.
06:28 Nick Foster: Thank you. Appreciate it.
06:29 Brian Fugate: Well done. Your four years have launched you into what's gonna be a very, very promising career. Tell us how's that process been, about going through the full-time job search and decision-making?
06:44 Nick Foster: It's been very consuming. It's a very stressful process, because compared to internships a lot of these full-time jobs will have you fly out to their company, or fly out to their headquarters to interview. So it's very stressful. I've flown to New Jersey, to Seattle, to Chicago just to interview for these jobs and that's a lot of time commitment, and time commitment away from school. But it's a good process because these companies are investing a lot of time and a lot of money into making sure these programs are... Show what the company's about, but then to also get to know you as well.
07:25 Brian Fugate: Yeah.
07:26 Nick Foster: So it's an intense process, but it's a rewarding process because you're gonna get to experience a lot of different companies, you get to see what would be a good fit and what wouldn't be a good fit. But it's a consuming process and it's an intense process, that's for sure.
07:41 Brian Fugate: So tell me about some of your classes. What was your favorite class and why?
07:44 Nick Foster: Yeah. I had a lot of great classes in supply chain. I really liked Supply Change Strategy, but I would have to say that my favorite class was Supply Management. That was my first real supply chain class. It was a great way to dive into it. And then also the lecturer in there was great. Don Bechtel, who worked for a very long time at Proctor and Gamble and had a lot of experience, actually, with Sam Walton. So it was great kind of learning from almost the master of supply chain, in that he was on some of this really cutting-edge innovative stuff that we still learn about in schools today, and have him up there and lecture and talk about his experience as becoming like P&G, and also alongside with Walmart, which was awesome.
08:25 Brian Fugate: Yeah, that's fantastic. So thinking back maybe, you're here launching into a phenomenal career, and thinking about how you got here, what advice would you give your earlier self or some younger students?
08:41 Nick Foster: I would say be aggressive. Be aggressive in what you commit yourself to, even if you think it might be outside your comfort zone or outside what you think you might even want to do. So my first, I would say two years, I wasn't particularly aggressive in putting myself out there and trying for things and going out and really pushing myself outside of my comfort zone. But I would say late sophomore year to junior year that really changed. I became more aggressive. I joined the McMillon Innovation Studio, I became a Walton ambassador, I just did a couple other things, studied abroad. I think things that really pushed me outside of my comfort zone and made me have more confidence in what I could do, and I think that was really important for me.
09:22 Brian Fugate: That's great to hear. I have to tell ya, as a teacher, as a professor, a department chair, students like you who go through these experiences and have those kinds of insights and passion, that's what makes us keep coming back. And so thank you for what you've done while you're here. And again, I want you to know you're gonna do great things, and thank you for your time.
[music]
09:44 Brian Fugate: It's been so interesting to hear about your story.
09:46 Nick Foster: Absolutely.
09:47 Brian Fugate: Thanks Nick.
09:47 Nick Foster: Awesome.