Teradata University for Academics
Teradata University for Academics
The Walton College is collaborating with Teradata University for Academics to bring premier academic resources about data warehousing, decision support systems, business intelligence, advanced analytics, and databases. Also, the Walton College Enterprise Systems serve as a host for access to its large-scale, real-world databases.
System Overview
Teradata has upgraded our systems to a (12+1) IntelliFlex 2.1 System with a 204 TCore rating and 208 TB customer data space. Teradata's patented parallel architecture provides the foundation for the unique ability to support a wide range of data warehousing functions, ranging from reports to ad hoc queries to data mining, all from a single data warehouse that integrates data from across the enterprise.
Teradata is committed to the highest levels of reliability and availability by providing capabilities for automated management and operation. Complex queries are executed quickly due to the high level of parallelism built into the Teradata system. Teradata provides industrial-strength database power optimized for data warehouse and decision support systems.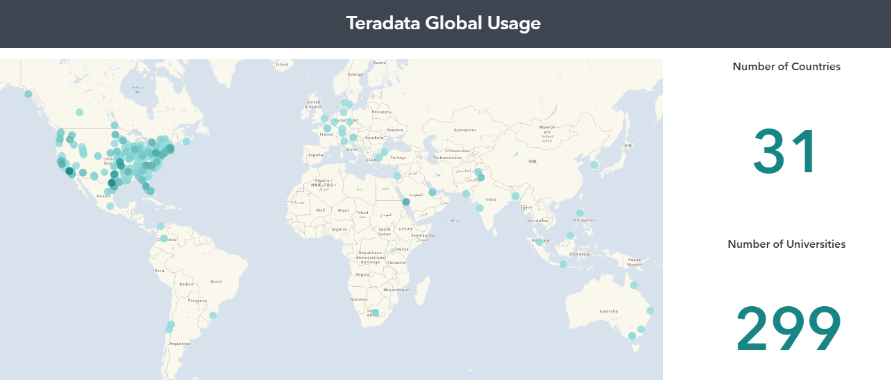 View user activity on our Teradata platform
Common Uses
Teradata and their industry focused solutions allow students from all over the world to gain practical experience by applying industrial-strength tools to real-world datasets. Teradata had not only provided their database solution, but included their Teradata SQL Assistant which stores, retrieves, and manipulates data from any Teradata Database, but also provides an ODBC interface to connect with other databases. In addition, students can learn state of the art analytics with Teradata's Vantage Platform.
System Access
Exercises, Use Cases, and Labs