Tyson Frozen Foods
Tyson Frozen Foods manufactures and markets specialty frozen and refrigerated food products. Tyson markets its products domestically to food retailers, restaurant operators, and noncommercial foodservice establishments such as schools, hotels, and healthcare facilities. Most of Tyson customers are small businesses, and are divided along the Sales District dimension and Pricing Segment dimension. The information available is based on the Tyson Frozen Foods COPA database available on SAP BW. Users will have the opportunity to explore the data and operations of the company and see how the data can be leveraged to improve profitability in the organization.
The sales process that Tyson Frozen Foods originally used to populate these tables is as follows:
Customers call the sales office and are forwarded to a sales organization.
The sales organization advises the customer on what products will provide the strongest sell through as well as explains the pricing structure based on the sales district, and pricing segment.
The customer requests the appropriate products, which are then shipped through freights and frozen if necessary.
Tyson Frozen Foods cube consists of 6 dimension tables that are linked to a fact table. The data also contains COPA database, for cost and profitability analysis data. The data contains customer transactions for more than 13 thousand products shipped to 92 different sales districts in the United States.
This is a gifted dataset that is based on real operational data. Like many real databases, integrity problems may be noted. This can provide a unique opportunity not only to expose students to real data but also to illustrate the effects of data integrity problems.
Below is the ERD for Tyson Frozen Foods, Inc.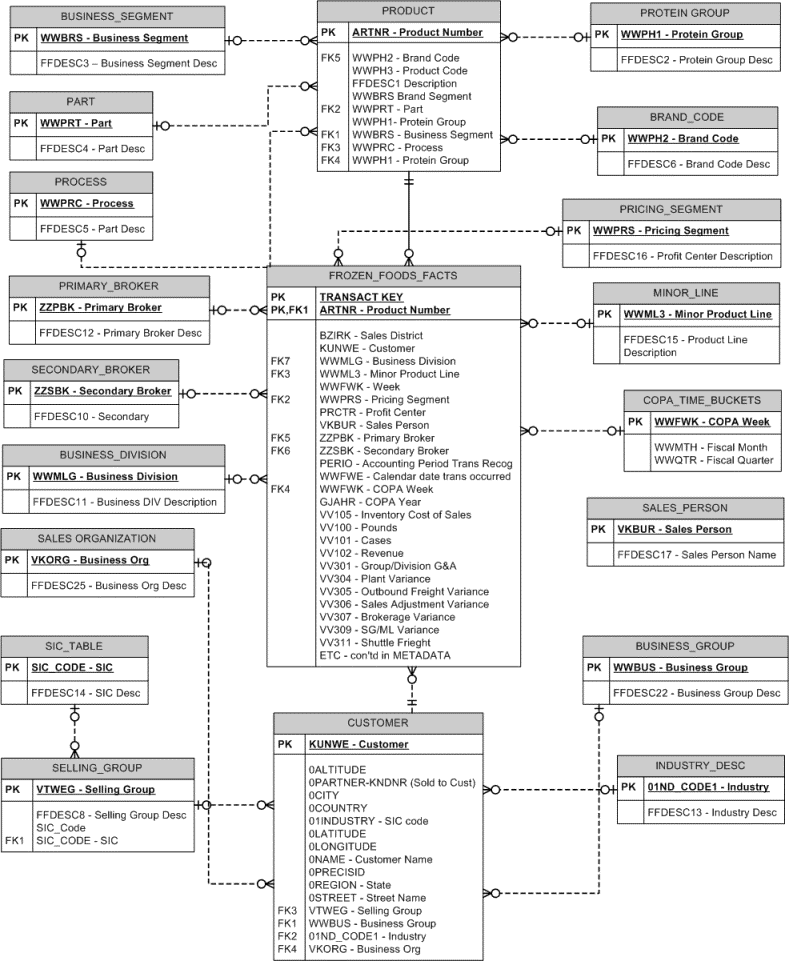 There are nearly 12 million rows of data populated for use, spanning two years from January 2004 to December 2005 in the Tyson Frozen Foods dataset. The table below shows gross sales accrued per fiscal month in the dataset.
| | |
| --- | --- |
| Fiscal Month | Gross Sales |
| 1 | $4,222,219,489 |
| 2 | $4,443,232,271 |
| 3 | $3,500,464,681 |
| 4 | $3,838,975,120 |
| 5 | $4,855,465,028 |
| 6 | $3,916,643,806 |
| 7 | $5,870,330,164 |
| 8< | $5,262,664,293 |
| 9< | $4,159,971,895 |
| 10 | $3,970,289,286 |
| 11 | $5,162,068,246 |
| 12 | $4,556,731,827 |
Metadata for Tyson Frozen Foods, Inc. dataset is below.
| | | |
| --- | --- | --- |
| ATTRIBUTE | DESCRIPTION | VALUES |
| ARTNR | Product number | P001850-0214 |
| BZIRK | Sales district | 60400 |
| GJAHR | Fiscal year | 2004 |
| KNDNR | Customer | 102525 |
| KUNWE | Ship-to party | 80477 |
| PERIO | Period/year | 2004001 |
| PLIKZ | Plan/act. indicator | 0 |
| PRCTR | Profit center | 150030004 |
| VERSI | Plan version (CO-PA) | 12 |
| VKBUR | Sales office | 668 |
| VKORG | Sales organization | ? |
| VTWEG | Distribution channel | 34 |
| VV100 | Pounds | 480 |
| VV100_ME | Base unit of measure | LB |
| VV101 | Cases | 20 |
| VV101_ME | Base unit of measure | CSS |
| VV102 | Gross Sales | CURRENCY |
| VV105 | Inv Cost of Sales | CURRENCY |
| VV301 | Group/Division G&A | CURRENCY |
| VV302 | Revenue Adjustments | CURRENCY |
| VV304 | Plant Variance | CURRENCY |
| VV305 | Outbound Freight-VAR | CURRENCY |
| VV306 | Sales Adj - VAR | CURRENCY |
| VV307 | Brokerage - VAR | CURRENCY |
| VV309 | SG/ML - VAR | CURRENCY |
| VV311 | Shuttle Freight-VAR | CURRENCY |
| VV312 | Consigned Frgt - VAR | CURRENCY |
| VV313 | Outside Freezer-VAR | CURRENCY |
| VV314 | Tyson Freezer-VAR | CURRENCY |
| VV315 | Direct M/L Exp - VAR | CURRENCY |
| VV316 | Sls/Mkt/Sch - VAR | CURRENCY |
| VV318 | Group/Div G&A - VAR | CURRENCY |
| VV319 | Interest - VAR | CURRENCY |
| VV401 | Advertising - VAR | CURRENCY |
| VV403 | MDF Cust Growth Incv | CURRENCY |
| VV404 | MDF Buying Grp - VAR | CURRENCY |
| VV405 | MDF BuyGrp Pr - VAR | CURRENCY |
| VV407 | MDF Guar Prgm Pmts | CURRENCY |
| VV408 | MDF Corp Cust - VAR | CURRENCY |
| VV409 | Intercompany Cost of Goods Sold | CURRENCY |
| VV410 | Stevedoring - VAR | CURRENCY |
| VV411 | MDF Corp Sales - VAR | CURRENCY |
| VV412 | Interco Cost Adj | CURRENCY |
| VV413 | MDF Cust Pr - VAR | CURRENCY |
| VV415 | MDF Demo Lbr - VAR | CURRENCY |
| VV417 | MDF Demo Smp - VAR | CURRENCY |
| VV419 | Freight Forward-VAR | CURRENCY |
| VV420 | MDF Consumer Redempt | CURRENCY |
| VV421 | Mfg Efficiency Var | CURRENCY |
| VV423 | Purchase Price Var | CURRENCY |
| VV424 | MDF Product Rel Exp | CURRENCY |
| VV426 | MDF Sales Rel Exp | CURRENCY |
| VV427 | MDF Region - VAR | CURRENCY |
| VV429 | Var-Cost Purch Rewrd | CURRENCY |
| VV430 | Spec Fds Profit Shar | CURRENCY |
| VV431 | MDF Mlt Unt Pr - VAR | CURRENCY |
| VV432 | MDF Sales/Mkt Exp | CURRENCY |