Advisory Board Vision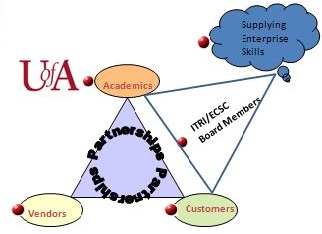 It is our vision for Enterprise Systems to be a premier world-wide source of academic enterprise curriculum and systems.
Winning
Enterprise Systems with its world-class curriculum and global reach produces globally competitive students and world-leading faculty for teaching and research. Enterprise systems captures the true meaning of connecting scholarship with practice.
Advisory Board Purpose
The purpose of the Enterprise Computing Steering Committee is to provide strategic direction and ensure the University of Arkansas houses leading-edge hardware/software to support its world-class Enterprise Curriculum.

Advisory Board Companies

Company
Acxiom Corporation
ArcBest
Arkansas Blue Cross/Blue Shield
Baldor Electric Company
Colgate-Palmolive Company
Conoco Phillips
Dillard's Department Stores
J.B. Hunt Transport Services, Inc
Phillips 66
Teradata
Tyson Foods, Inc.
Walmart Stores, Inc.